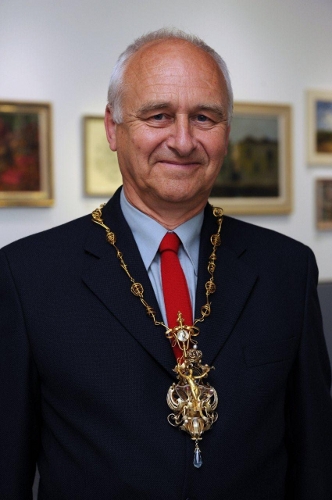 It is with much sadness and deep regret that we have to tell you that our President Andy Wood PRI, RBA passed away on 19 November 2016, after a short illness.
Andy was elected President of the Royal Institute of Painters in Water Colours in 2014, the 15th President elect. Born in Porlock, Somerset in 1947 he spent his formative years in Surrey. In the 1960's he attended Croydon College of Art and Newport College of Art, Monmouthshire and attained a degree in Fine Art and Film. Andy had many varied jobs before becoming a professional artist, including stage electrician at The London Palliadium and running an Arts Centre. In 1976 he attended Maria Grey College of Further Education, Twickenham, where he attained a Post Graduate Certificate in Education (PGCE).
In 1977 he moved to Charmouth, Dorset and joined the Dorset Fire and Rescue Service. He then started painting professionally, opening a gallery in nearby Lyme Regis, remaining a fire fighter until moving with his family to Rye, East Sussex in 2002.
Andy became a Member of the Royal Society of British Artists (RBA) in 1980 and a Member of the Royal Institute of Painters in Water Colours (RI) a year later. In 2009 he was elected Honorary Secretary to the RI and in 2014 he was made an Honorary Member of the Royal Watercolour Society (RWS).
Although he had only been President for a short time, Andy and the RI Council have introduced many new initiatives including RI Workshops, RI fRIends and more social events for members. His sense of humour and dedication to the RI was unquestionable and he will be greatly missed. Our heartfelt condolences go to his wife Kate and children, Arthur and Freya.