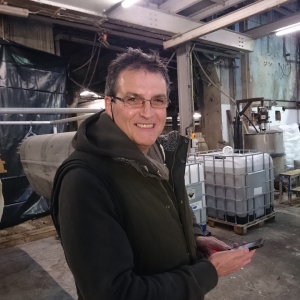 I was recently asked by Parker Harris, who run a number of the country's leading art exhibitions, whether I would like to take part in one of a series of 3 promotional films for the Sunday Times Watercolour Competition. The 3 films, all based around paper making at St Cuthberts Mill, featured a different artist at each stage of the paper making process. I was to be involved with taking the raw material through to a roll of paper.
The other artists, Nathaniel Hornsby and Varsha Bhatia looked at testing and finishing. By nature I am not comfortable in the limelight and the thought of painting and talking on camera filled me with dread. However, before I had a chance to think too much I said 'Of course, I would love to take part and I am honoured to have been asked'. The latter was certainly true. As the Mill is only a few miles down the road from my studio and I use their Millford paper, it seemed ridiculous to turn down such an exciting opportunity based on a fear of being the centre of attention.
Fortunately I was able to arrange a visit to the Mill, which is normally closed to visitors, to scout out a few painting spots beforehand and take some photos. I used these to make a few studies in the studio so that I wouldn't immediately be faced with a whole series of decisions on the day. With the benefit of hindsight perhaps I should have asked if I could do some preparatory work on location – something to bear in mind.
Nevertheless the day for filming quickly came around and I arrived at 09.30 with everything I needed for the day, including a flask of tea, ham rolls and my waterproofs…. inevitably it was raining and forecast to do so for most of the day. I was greeted at the gate and immediately taken to the paper making area to film the 'start-up' process for a run of Saunders Waterford Rough. My 'acting' involved listening to Steve Carroll, the Technical Manager, explain the noisy mechanical process while we walked the length of the paper making machine, about 100 yards. We had to do this twice, once for distance filming and another for close-up. Apparently we were doing a four-camera shoot with 2 cameras. I couldn't think of a single intelligent thing to say so said nothing during all this but the filmmaker, also named Steve (from sgafilms), seemed happy. We did some similar filming about the preparation of the raw material by which time it was 11.30 and time for my turn to take the leading role.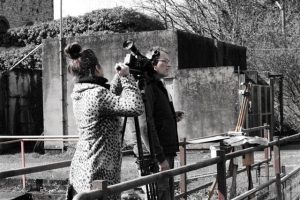 We discussed location options and by now it had stopped raining so we agreed that I would paint the river, or leat, which takes the water into the Mill. Having prepared for this option I was relatively comfortable and had even brought my preliminary studies with me so that I had something to work from. I quickly set up my easel on the metal bridge over the river and a close-up camera was placed next to me. In the rush to get going before the rain returned, I had forgotten to place my preliminary sketch on the easel and I was now trapped by a camera, had a radio mike on and consumed with fear. No worries… I could paint this little study direct from life, and talk about what I was doing, no problem….. right?
Well………..never take anything for granted. While filmmaker Steve was so good at feeding questions so that I could talk in a reasonably intelligent way about what I was doing, the sketch itself wasn't going that well. The sun came out, went in again and then it looked like rain. We filmed for about an hour and a half, including some extreme close up work of the painting in progress and I finished with a final wash to put in some dark reflections before the rain returned. I felt quite pleased that I had managed to produce something in the time but moreover I had an overriding feeling of utter relief that my part was over. It was now 1 o'clock.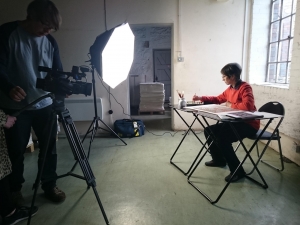 I stayed at the Mill for the rest of the day watching Varsha and Nathaniel in front of camera. It was another couple of hours or so before we moved on to film in the Salle, or finishing department. This is where each sheet of paper is checked for imperfections, the deckle edges are created and the St Cuthberts stamp impressed on each sheet of Saunders Waterford paper… all done by hand. Finally we focused on quality control and some of the extensive tests done to each run of paper to ensure consistency. One of these included testing the tear strength of the paper, where a number of heated wax seals are applied to the paper and left to cool before being removed. This involved a blowtorch and some flames which excited filmmaker Steve and then Nathaniel, on film, asked the question of the day 'so, Steve (I know, another one!), that looks intense… what's going on?' I guess you probably had to be there but it made me laugh… 'take 2'.
Although I have been painting for many years I did not fully appreciate the amount of time, love and care which goes into producing something which I often spoil and put in the bin.
Images top to bottom: David Parfitt RI; David painting the leat from the bridge during filming; Varsha Bhatia, a Candidate for RI membership, during filming.
If you would like to watch David's film, please follow the link: https://www.youtube.com/watch?v=x-uaST5XRbY