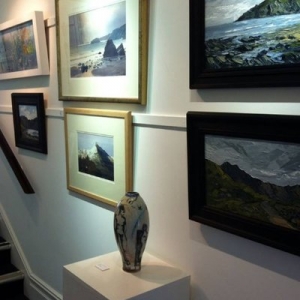 The Albany Gallery is situated in the heart of Roath and each year we like to take part in 'madeinroath' which an artist-led event, now in its 9th year, aiming to take art into the wider community.  It showcases the work of emerging and established artists, makers, musicians, writers and performers, who use the whole of Roath as the venue, including domestic, commercial, public and overlooked or disused spaces.
madeinroath offers residents and visitors an opportunity to engage in the arts through a dynamic programme and events, including an open exhibition, open houses, open studios, film, poetry and literature, music, visual arts, outreach, education and workshops.
This year's madeinroath festival will run from 15 – 22 October (with the main events happening on the 21/22 October) during our exhibition at the gallery.
The gallery often has short films running throughout the day, literature available, and informal question and answer sessions for visitors. Several RI members will be taking part in this splendid event!