Now in its 30th year, The Sunday Times Watercolour Competition is the largest and most prestigious watercolour competition in the UK. Hugely popular with artists, gallery visitors and readers of The Sunday Times, the competition aims to celebrate and reward excellence and originality in the medium of watercolour. This year we have four Members selected for the Sunday Times Watercolour Competition 2017! Lillias August, Delia Cardnell, David Parfitt and Ian Sidaway will be exhibiting in this prestigious annual exhibition at the Mall Galleries next month. Congratulations one and all!
Here are a few words from Lillias, David and Ian about their successful entries: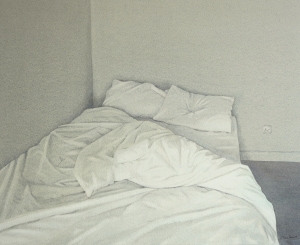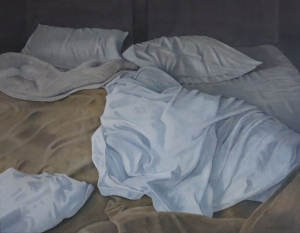 Lillias August has two paintings selected, 'Empty bed I', H33cm x W41.5cm and 'Unmade beds II', H33cm x W41.5cm. She said;"Amongst other work, I am currently working on a series of paintings of unmade beds and other interiors. The inspiration originally came from a weekend away with my family. I had flu. It was very quiet. They had all gone out for a walk and there were just these 'remains of where they had been' and I found it very moving. The subject matter is naturally evocative. I wanted the paintings to be like the house; dark and still, slightly brooding but peaceful. I am hoping that this series of work will evoke the same feelings, lingering between presence and absence, that I have always sensed through my still life objects.On the technical side my method of painting is rather brooding too with paint being layered on and lifted off in stages to create the effect that I want. Although watercolour is my beloved medium, I don't considered myself a natural watercolour painter.  The common convention of working from light to dark or using one-off broad washes, doesn't always accommodate my thought processes and indecisions and it is only during the very last stages that I can decide whether things have worked out or not."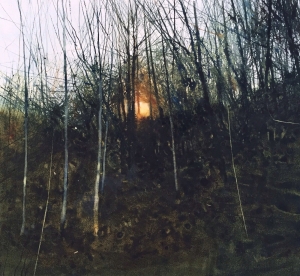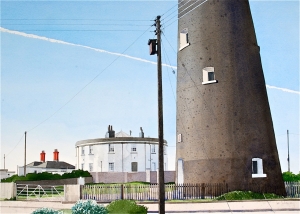 David has one painting in the exhibition. He said; "It's a 43cm x 46cm watercolour on Arches 140lb paper. The view is in a disused quarry about 5 miles from me. It's on a footpath – we decided to go for a stroll coming home from shopping at about 4.00 in February. It was a bit late and the sun was disappearing behind some silver birch and vegetation. I took a load of photos on our walk on my phone and used quite a few as starting points for various paintings."
Ian has one painting selected. He said, "The painting they accepted this year is 'The Old Lighthouse Dungeness', Watercolour, 80cm x 100cm. One of a series of paintings made on the stretch of shingle that ends at the Dungeness power station. After making a few drawings I was taken by the way in which the picture area was split up by the cables, the dark bulk of the lighthouse, the poles  and the vapour trail, which was made up and added to split the sky area further."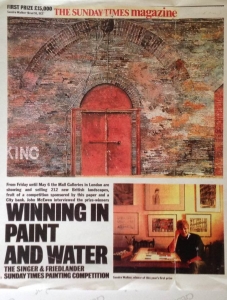 Whilst all of this years successful entrants have received many congratulations in person and on social media, one notable comment came from RI Member Sandra Walker, who said, "Congratulations to my colleagues at the RI who are showing in this year's Sunday Times exhibition…which I once had the honor of winning.
Best of luck to LILLIAS AUGUST, DELIA CARDNELL, DAVID PARFITT and IAN SIDAWAY"
Congratulations to all successful entrants and good luck to you all. Let's hope that history repeats itself and one of you wins the top prize of £10,000!
Exhibition details: Sunday Times Watercolour Competition, from 18 – 24 September, at the Mall Galleries, The Mall, London SW1, open daily 10am – 5pm and entry is FREE.