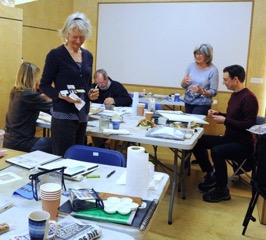 For those who have not previously attended workshops, they cover all levels of skill and experience. Each session allows for a small group of ten students to spend a day at the Mall Galleries Learning Centre in a relaxed and friendly atmosphere. Tutored by RI members, workshops cover a broad variety of subjects and techniques.
fRIends of the RI enjoy the benefit of a reduced fee, so workshops become a nice opportunity to possibly meet up with fellow fRIends.
Beginning on Saturday 30 September  Julia Sorrell will use watercolour to enhance and illuminate drawings to create exciting images.
On Saturday 11 November Chris Forsey will be in conversation with Rosa Sepple to discover the 'hidden secrets' and inspiration behind her very imaginative work.
Paul Banning is joining us again on Saturday 18 November, to guide students through "wet into wet" watercolour techniques, giving a greater understanding of this exciting, loose and expressive working method.
On Saturday 25 November , Anne McCormack will be looking at what is meant by 'water-based media' – how to handle and experiment with watercolour, gouache and acrylic;  stimulating your creativity with this range of media.
We are sure this Autumn Workshop series will offer guidance, assistance and enjoyment, helping your own painting go from strength to strength!
For further details and a BOOKING FORM please visit the workshop page and we look forward to seeing you soon.