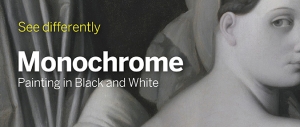 Journey through a world of shadow and light at the National Gallery this autumn.
30 October 2017 – 18 February 18 in the Sainsbury Wing
With more than 50 works painted on glass, vellum, ceramic, silk, wood and canvas, 'Monochrome' explores the tradition of painting in black and white over 700 years, from it's beginnings in the Middle Ages through the Renaissance and into the 21st Century.
Paintings by old masters such as van Eyck, Durer, Rembrandt, and Ingres appear alongside works by some of the most exciting contemporary artists working today, including Gerhard Richter, Chuck Close and Bridget Riley.
'Monochrome' is a radical new look at what happens when artists cast aside the colour spectrum and focus on the visual power of black, white and everything in between.
"Beauty is all the bolder in black and white", The Times
https://www.nationalgallery.org.uk/whats-on/exhibitions/monochrome-painting-in-black-and-white