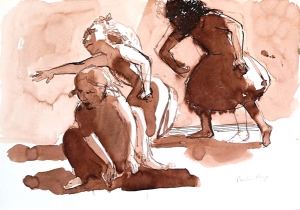 A rare opportunity to see Dame Paula Rego's preparatory drawings for her paintings, providing an insight into her remarkable draughtsmanship and the development of her ideas.
Born in Lisbon, Portugal in 1935, Rego has a career that spans over half a century and since her studies at the Slade School of Fine Art in London, has travelled consistently between the two countries. Using folklore and fairy tales, both personally constructed and widely known, Rego's work builds narratives of both trouble and fantasy, often leaving reality behind in favour of a religious fervour.
The exhibition draws largely from sketchbooks from the 1980s and 90s, including studies for some of her most famous works and provides a new understanding of the work of one of Britain and Portugal's most loved figurative artists.
Exhibition: 30 September 2017 – 28 January 2018
Pallant House Gallery is located in central Chichester and is only a few minutes walk from Chichester Railway Station, the Cathedral and the Market Cross.
Opening Hours
Tuesday-Saturday: 10am – 5pm
Thursday: 10am – 8pm
Sunday/Bank Holidays: 11am – 5pm
Mondays: Closed
Christmas and New Year
Sunday 24 December (Christmas Eve): 11am – 4pm
Monday 25 December (Christmas Day): Closed
Tuesday 26 December (Boxing Day): Closed
Thursday 28 December: 10am – 5.30pm
Sunday 31 December (New Year's Eve): 11am – 5pm
Monday 1 January 2018 (New Year's Day): Closed
Address
9 North Pallant
Chichester
West Sussex
PO19 1TJ
Telephone
01243 774557
For further information please visit: http://pallant.org.uk/exhibitions/exhibitions/paula-rego-the-sketchbooks/paula-rego-the-sketchbooks