SPACE, LIGHT AND CONTRAST
a workshop by Geoffrey Wynne at The ArtsBox, Vicenza, Italy

22 -23 – 24 NOVEMBER 2019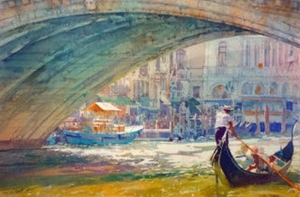 The main objective of the workshop led by Geoffrey Wynne RI is to create space, light and contrast with intense colours and, with watercolour, seek solutions for the various themes he has chosen.
Geoffrey will explore 3-4 themes, using a four-tone system: white, medium light, medium dark and dark, thus deciding the colour scale only later. He will paint wet on dry and wet on wet, mixing the colours on the paper until a happy and interesting solution has been reached.
Geoffrey Wynne (from Stoke-on-Trent, England) began his artistic studies as a child at the prestigious Portland House Art School, then attended the Burslem School, finishing his Fine Art studies at Staffordshire University. Like many British painters and watercolourists, he visits Spain, attracted by it's romanticism, the beauty of it's open spaces and cities, and it's unmistakable light. He has lived in Granada since 1988. He has won numerous prizes and awards throughout his career, and since 2008 he has been a member of the prestigious Royal Institute of Painters in Water Colours.
For more information on the workshop please write to info@theartsbox.com