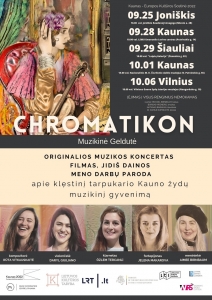 CHROMATIKON On the road to Kaunas European Capital of Culture
"Chromatikon" is an all female UK based music and art collective. It was formed in 2020 during the global pandemic. The members are Lithuanian composer RūtaVitkauskaitė (Royal Philharmonic Society), UK artist Aimee Birnbaum RI (Royal Institute of Painters in Watercolour) and award-winning Trio Sonorité musicians: Turkish clarinettist Özlem Tercanli, Canadian cellist Daryl Giuliano and Lithuanian pianist Jelena Makarova. Like Rūta, all three players are graduates of the Royal Academy of Music, London.
Their aim is to bring a message of hope and unity to audiences, by exploring a range of topics they deeply care about: including mental health issues, isolation, climate change and the survival of and discrimination against minorities.
Their next project is a two week concert tour of Lithuania in late September and Early October 2022 as part of the Kaunas 2022 European Capital of Culture. Chromatikon will perform in Kaunas, Vilnius, Šiauliai and Joniškis.The program will be in two halves. The first is a performance of an extended version of the "Music Shell" and the second a group of Yiddish songs, in which Jelena, Daryl and Ozlem will accompany Aimee's husband, Michael. During the intermission concert goers will be able to enjoy a small exhibition of Aimee's artworks evoking the pre-war cafe culture at such places as Metropolis, Versalis, Locarno, and Konradas. Admission to both concerts and  exhibitions will be free.
During the tour Chromatikon will be featured on Lithuanian Radio and Television (LRT) and will record "The Music Shell" in collaboration with Music Information Centre Lithuania
(Lietuvosmuzikosinformacijoscentras).
The schedule of performances is: 
25th September 2022, Time TBC. The Red Synagogue of Rokiškis (RokiškioRaudonojisinagoga)
8th September 2022 19.00. Emmanuel Levinas Centre in Kaunas, old building (EmanuelioLevinocentras, Kaunas, senasiskorpusas)
29th September 2022 Time TBC. "Laiptai Gallery", Šiauliai cultural centre (Laiptųgalerija, Šiauliųkultūroscentras)
1st October Time TBC M.K. Čiurlionis National Museum of Art, Kaunas (NacionalinisM.K.Čiurlioniodailėsmuziejus, Kaunas). This performance will be streamed live.
6th October Time TBC. Vilna Gaon Museum of Jewish History (Vilniaus Gaonožydųistorijosmuziejus)
Contact Chromatikon on: