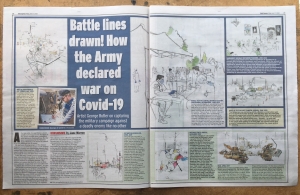 As a war artist, George Butler RI is more usually to be found on the frontline of the world's trouble spots, embedded with fighters in Syria and Iraq. But his latest commission, by the National Army Museum, is to record an assault on a very different sort of enemy.
He has been drawing images of the Army's response to Covid-19 in a variety of UK settings. Medical, logistics and engineering planners have assisted the civilian response. Much-needed PPE supplies have been sourced and delivered and thousands of virus tests have been carried out. Later this year, George's work documenting their vital contribution will go on display at the museum in a major exhibition, but he has given Express readers an exclusive preview. "My mission is to prove that there is value in these more reflective images that were used 150 years ago before the invention of the camera," he says.
And he has a practised method of putting his subjects at ease. In one of these artworks, he drew two shy young soldiers attending to PPE supplies at Bristol's Nightingale Hospital in May. It was clear they were a little uncomfortable, so George, 35, offered them some of the strawberries he was eating as an ice-breaker. It turned out one of the soldiers had never tasted strawberries before. "This is the great trick and the feather in the cap of drawing," he explains.
"It's a slower, more reflective approach that allows time for conversations to happen as I become part of the furniture. I'm no threat, sitting quietly, just letting things unfold."
More used to the intimacy of being surrounded by bystanders who jostle against him as his one-hour sketches emerge, he found the socially distanced nature of the recent commission something of a challenge.
"It was very different from being in a crowd or the back of a truck, or sitting in someone's living room in Mosul with kids climbing all over you. Working from behind a mask was interesting."
His spare drawings are characterised by fluidity and liveliness; mistakes or paint smudges are all part of the story, while the application of minimal colour helps to guide the viewer around the work. "Our brains are so good at filling in information, so I don't need to give it all to everybody."
George, whose next challenge involves walking across India, adds: "I see my role as shining a light. My drawings are not satirical or derogatory; they are things I want you to know more about."