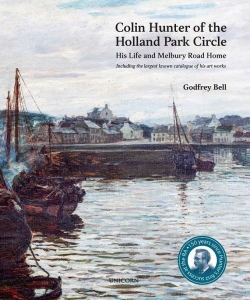 The RI archives recently helped with research for a new book, 'Colin Hunter of the Holland Park Circle – His Life and Melbury Road Home', by Godfrey Bell.
Colin Hunter (1841-1904) was a hugely successful Scottish Victorian artist who became a Member of the Royal Institute of Painters in Water Colours in 1882, making his debut as a full member at the opening by His Royal Highness The Prince of Wales at the RI gallery in Piccadilly. Hunter exhibited nearly one hundred works of art at the Royal Academy in London.
This new book is not just a biography of the artist, it is also the most comprehensive catalogue of his works to date. Born in Glasgow and then growing up in Helensburgh, Scotland, Hunter honed his craft painting landscapes in natural settings. The artist is best known for his seascapes painting largely with oil and occasionally watercolours, he was also an accomplished etcher. Moving to Kensington, London, in the heart of the Holland Park Circle and the smart set of the enclave of famous artists, including Lord Leighton, G F Watts and Sir Luke Fildes, most of whom were both Hunter's friends and neighbours.
Author Godfrey Bell became interested in Hunter's work when he moved into a block of flats at 14 Melbury Road, the site of Hunter's home and studio. The book, published by the Unicorn Publishing Group was launched with a special reception at Leighton House Museum, Holland Park Rd, Kensington on Wednesday 3rd October 2018.