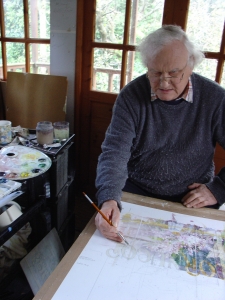 It is with great sadness that we have to tell you that our RI member Harry Price passed away at the end of April after a long illness.
Harry was born in Kington, Herefordshire in 1933 and studied at Hereford College of Art from 1951 to 1954 and the West of England College of Art , Bristol, from 1956 to 1957. He was the Principle Lecturer in the Department of Art, History and Communication at Coventry University, between 1972 and 1995 and was elected a Member of the RI in 2003.
Harry was a true craftsman and master of watercolour, using its translucency and fluidity in often complicated cityscapes where "the distortions and reflected images in glass and mirrors often create tensions with the flat surface of the paper itself and find expression in the natural sparkle and surface sheen". 
He has had his work exhibited in London, Bristol, New York and Toronto.
Our thoughts are with Harry's family and friends at this sad time.