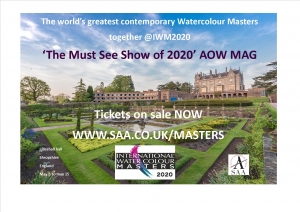 David Poxon RI NWS is busy organising the next International Watercolour Masters Exhibition which will be held at Lilleshall Hall in Shropshire from 5 – 15 May 2020.
After the extraordinary success of the IWM 2018 exhibition, which had more than 15000 visitors during it's run, the 2020 show is much expanded with daily demonstrations, lectures, live TV broadcasts, and a pop up art market all set within the grade 2 English Heritage setting of Lilleshall Hall.
The exhibition will feature 39 International Masters, and will include 3 RI members, David Poxon RI, Tianya Zhou RI representing China, and Mat Barber Kennedy RI for the USA.
#IWM2020 is supported by The SAA. Further information and tickets are on sale now at (www.saa.co.uk/masters) International Watercolour Masters 2020 – SAA .
A celebration of master artists and inspirational watercolour at its best!