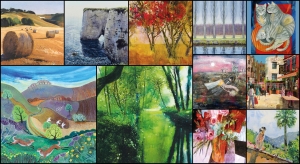 A new initiative has been launched by Dry Red Press, a 'Write and Send' service for those who can't get out. At no extra cost, you only pay for the card and usual shipping. They have halved their shipping cost so it's only £1. They are also applying a 10% discount on all orders.
As Dry Red Press are valued sponsors of the RI, please support them if you can.
Several Members of the RI have cards available to buy from Dry Red Press
Simply buy your card through their website, add the recipient's address as 'delivery address' and write your message in the 'notes' section at checkout. They will write and post your card.
Click here to find out more!
https://www.dryredpress.com/blogs/news/new-write-and-send-service
Image: Cards available from top left to bottom right, by Bob Rudd RI , Deborah Walker RI RSMA,Ann Blockley RI, Lillias August RI, Janet Skea RI, Lisa Graa Jensen RI, David Parfitt RI, Rosa Sepple PRI, Mike Bernards RI, Shirley Trevena RI and Chris Myers RI