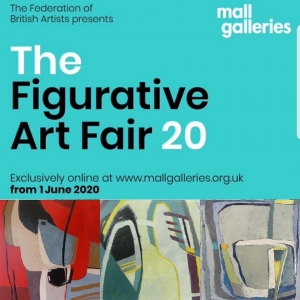 Introducing The Figurative Art Fair, the only exclusively online art fair for the finest contemporary figurative art.
Presented by the Federation of British Artists, the brand-new art fair will feature selected work for sale by elected members of the country's leading national art societies.
The exhibition will be viewable online at https://www.mallgalleries.org.uk/whats-on/exhibitions/figurative-art-fair
From 12 noon on 1 June 2020.
At a time when artists and art institutions alike need more support than ever, proceeds from the sale of artworks will benefit the artists and the Federation of British Artists, registered charity number 200048.
In the decade of "The Triumphant Return of Figurative Art" (The New York Times, 2015) when "figurative painting is enjoying a revival" (The Times, 2020), the Federation of British Artists presents The Figurative Art Fair, an online showcase of representational work by its artist members.
Mall Galleries, home to the Federation of British Artists, exists as the national focal point for contemporary figurative art. Here, exclusively online, it will present the genre at its finest by members of
The Pastel Society (PS)
Royal Society of British Artists (RBA)
Royal Institute of Painters in Water Colours (RI)
Royal Society of Portrait Painters (RP)
New English Art Club (NEAC)
Royal Society of Marine Artists (RSMA)
Society of Wildlife Artists (SWLA)
and the Royal Institute of Oil Painters (ROI)
in a virtual, "figurative" art fair without bricks and mortar while the physical gallery is closed.
Though the Federation was founded in February 1961, the individual societies that make up the FBA date back to 1823. Jointly, the eight exhibiting societies represent over 1,000 years of artistic heritage.
It has been said about the societies that, "They have survived wars, numerous recessions, dramatic changes in fashion and the occasional, inevitable, skirmish amongst members" (Anthony J Lester FRSA, art critic and broadcaster).
Now, on the eve of the Federation's sixtieth anniversary, the societies come together in a time of isolation to celebrate figurative art, contemporary artists, and the spirit of artistic collaboration.
Exhibition Admission is usually £5. If you enjoy viewing the exhibition online, and could consider making a donation to help us through this period of closure, any amount would be greatly appreciated. https://www.mallgalleries.org.uk/join-support/donate-today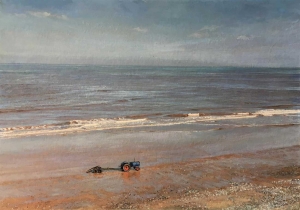 Image: Sarah Spencer NEAC Tractor on the Beach, Oil on panel, £1,100