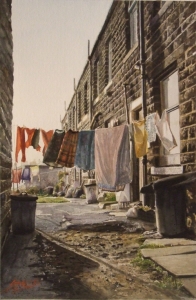 The winner of The Neil Meacher RI Watercolour Award is Geoff Butterworth for his painting 'A Day Like Any Other'
Geoff says:
This watercolour subject was photographed years ago and I have done a couple of versions of it with figures and cats on. This time I chose to work it as it was and also to work on a paper of the time. I used to do commissions for Whatman Paper for use as a production bonus that went to India, China, Germany and America and in payment, I chose paper (watercolour, not money).
The 200lb Not Whatman paper seemed to paint itself, you just looked at it and showed it the brush. The results here are pretty much the same, I have very few left but they are a treat every now and again. "A Day Like Any Other" sums up the mundane life of the times in the Lancashire border towns in the Pennines. Beautiful light, gritty reality.