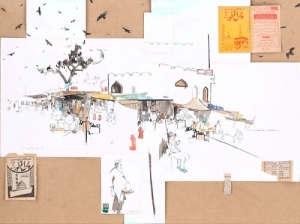 The winner of the Winsor & Newton Award (£3000) went to George Butler for his painting 'Delhi Market'
George says:
This work developed because I have always wanted to work bigger than a sketchbook. In situ, in the market outside the mosque in the heart of Delhi, I drew on separate sheets of paper, trying not to worry about whether they fitted together.
I drew over two days and then collected ephemera from the surrounding market stalls to help piece the work together. It is more a composite of characters, black kites and the scene – a memory, for me more accurate than a photograph.