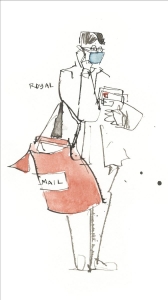 George Butler RI has always wanted to use the phrase "Whilst Stocks Last" – and now he can.
He has made a few drawings, limited edition prints and etchings for sale from lockdown and beyond, that when rolled up will fill almost an entire Christmas stocking on their own!
George says: 
For more information, and some old favourites please visit my shop.
And please order in good time as he will be cycling around London delivering them.
Image:
NEW: Postman working in Lockdown.
Hand tinted etching
Page size: 20.8cm x 29cm
Signed and Editioned out of 20
£65 + postage