Award-winning artist and member of the Royal Institute of Painters in Water Colours, Mike Bernard RI will be showcasing a range of new paintings for his 11th solo show at Marine House at Beer this September. His exhibition will incorporate over 30 local paintings, as well as some landscape works from London and Venice.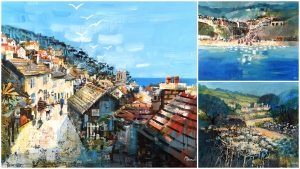 A COLOURFUL EXPLORATION OF DEVON'S COAST AND COUNTRYSIDE runs from Saturday 21st September to Friday 4th October 2019, open daily from 10am – 5.30pm and everyone is welcome to attend the launch day on Saturday 21st September from 11.00am, when Mike will be present. Simply contact the gallery on 01297 625257 for an invitation and colour catalogue.
Mike is nationally recognised for his unique and original style of incorporating collage and acrylics to form cleverly observed mixed media artworks. Although Mike's subject matter often includes everyday landscapes, seascapes, street scenes, still life and figurative compositions, his experimental use of media and techniques allows his artworks to evolve and take on a life of their own. As Mike suggests, "I enjoy the way textures, shapes, colour and 'happy accidents' steer the direction of my paintings". Starting from an on the spot sketch, Mike portrays the key details and essence of the subject or scene, which he then brings back to his studio to start a layering process with paint, paper, and collage. From this state of "disarray", he then utilises drawing techniques to define the subject and to create recognisable shapes and features. Mike's natural ability to allow these textures, vibrant colours, and shapes to simply fall into place, gives his paintings their own unique personality. As a result, his final artworks retain a semi-abstract impressionistic feel, which fully engages the imagination of the viewer.
Originally trained at West Surrey College of Art and Design, Farnham, followed by postgraduate studies at the Royal Academy Schools, Mike has exhibited widely in London and across the UK, but his closest association spanning 20 years has been with Marine House at Beer. He was elected as a member of the Royal Institute of Painters in Water Colours in 1997, and has won an array of awards over the years and has exhibited at the Royal Academy Summer Exhibition. Born in Kent, Mike moved to Devon in 2008 inspired by the stunning Devonshire light.
ABOUT MARINE HOUSE AT BEER
On the beautiful World Heritage Coast in East Devon, Marine House at Beer started 21 years ago when owners Mike and Rosemary Lambert both wanted to escape the hustle and bustle of business in London. Originally art collectors themselves, they were inspired to follow their passion and keen sense for spotting artistic talent, and have gone on to establish one of the best known and longstanding contemporary art galleries outside of London.
Website: www.marinehouseatbeer.co.uk
Address: Marine House at Beer, Fore Street, Beer, Devon, EX12 3EF
Telephone: 01297 625257