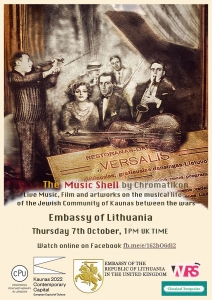 Over the past several months,
Aimee Birnbaum RI
and her music/art synthesis collective
"Chromatikon"
were working on a new project, which will tour to Kaunas – European Capital of Culture
Kaunas 2022
next year.
We are pleased to present you with
The Music Shell
– an artistic exploration of flourishing musical life of the Jewish community in Kaunas between the wars. Join us for a live stream of the first version of this work, from the
Lietuvos Respublikos Ambasada Londone / Lithuanian Embassy in London.
Live music, film and artworks from: Thursday 7th of October, 1:00-1:30 UK time
The project is created by the Chromatikon team of Ruta Vitkauskaite's music and video, Aimee Birnbaum's artworks, Ozlem Celik on the clarinet, Daryl Giuliano on the violoncello and Jelena Makarova at the piano. The team will be joined by singer Michael Birnbaum. The live audience at the Embassy will also enjoy an exhibition of original artworks created by Aimee Birnbaum.
Aimee said, "We are grateful to all the people and organisations who generously contributed their time and creativity towards this work! We list their names at the end of the film."