The archive of the Royal Institute of Painters in Water Colours is an extensive one. In recent years the RI has gathered together the RI Archive from various locations where it has been stored for many years. We are delighted to say that our Archives are now safely housed at the Victoria & Albert Museum in London.
If you have any enquiries relating to the archive please contact the Archive Officer.
There is a scale of charges for this service, between at £25 – £100, depending on the length of the investigation.
There are plans to build an internet based archive of articles and information of general interest to members and visitors., and researchers. Substantial funding will be required to undertake this project. If you would like to donate to this very worthy cause please see Donations page.
 Restoration
The RI archives have gone through quite a lot over the years. On October 14th 1940 St James's church was hit by a high explosive bomb and various incendiary bombs. The church was next to the RI's home at 195 Piccadilly and the bombs caused fire and water damage to the archives. Then, in the early 1970's, the RI and the archives moved from their home at 195 Piccadilly when the lease came to an end. This resulted in the RI joining the Federation of British Artists, based at the Mall Galleries which is their current home. The archives were stored at the Mall Galleries until the opening of the 'Learning Centre' when they were split up and given to Members who could find space for them at their homes. As soon as the archives had been retrieved and arrangements made, the Archives were collected by the V&A and restoration commenced. This specialised and delicate work includes cleaning and repairing documents and books and as the work progresses each item has its own custom-made box.
Following this extensive work, members of the public will be able to visit the museum to see or research artists from our illustrious past.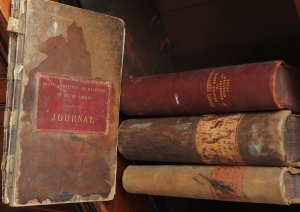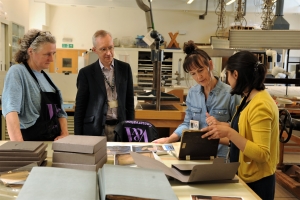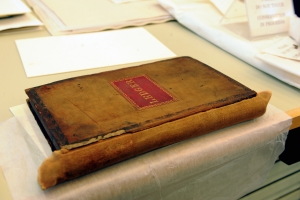 Images: Some of the damaged archives; Conservators Rebecca Tabram (left) and Sarah Bashir (right) talking to Rosa Sepple PRI and Christopher Marsden, Senior Archivist at the Museum; and an RI Ledger with new leather spine.
The members of the R.I. since 1831
Please click on the PDF to view all members: