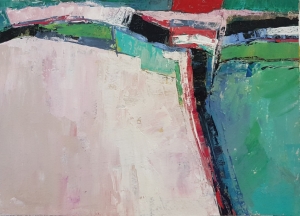 Art for Youth London was established in 1988 by Diana Brooks MBE as a platform for emerging artists and a fundraising exhibition in support of the UK Charity, UK Youth.
Now in its 33rd year, this annual art exhibition has raised over £1.6 million enabling UK Youth to support a network of 8,000 youth organisations and nation partners, collectively reaching 4.1 million young people, many of whom are living in deprived areas or facing personal barriers. Purchasing a work of art or making a donation will support artists and young people at a time when they need it most.
In 2020 Art for Youth London moved online for the first time, exhibiting over 150 contemporary emerging and established artists. This year's event will return once more to the Mall Galleries in December. For those that are unable to attend in person, art will be available to purchase online at the end of the live exhibition.
Jean Noble RI SWA will be exhibiting in Art For Youth London , open from 6 – 10 December at the Mall Galleries, online until 19 December.
For further information please visit: https://artforyouth.com/