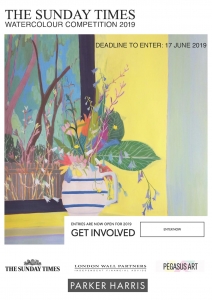 Now in its 32nd year, The Sunday Times Watercolour Competition is the largest and most prestigious watercolour competition in the UK. Hugely popular with artists, gallery visitors and readers of The Sunday Times, the competition aims to celebrate and reward excellence and originality in the medium of watercolour
Entry is through an online entry process.  Entry fee is £15 per work.  Artists may enter up to 4 works only.
The closing deadline for online submission is 5pm, 17 June 2019. The panel of judges will initially review entries through a digital submission process. Following this, a maximum of 250 shortlisted artists will then be invited to deliver their actual works on 5 July 2019, from 10 – 5pm and 6 July 2018, from 10 – 4pm, to the Federation of British Artists (FBA), 17 Carlton House Terrace, London SW1Y 5BD, for final judging.
Only works shortlisted from the initial digital submission will be received for final judging. These works will only be accepted at the submission point with fully completed entry forms and labels, which will be emailed to artists following the initial selection. Please note that notification of all results will be sent by email only.
The following prizes will be awarded during the exhibition. They will also be announced in The Sunday Times Magazine and on The Sunday Times website:
London Wall Partners Prize – £8,000
Second Prize – £3,000
Third Prize – £1,000
Pegasus Young Artist Prize – £500*
In addition, there will be a range of other prizes on offer to artists.

*£250 plus £250 of material will be awarded to an artist aged under 30 on 17 June 2019
EXHIBITION & TOUR
A maximum of 100 works will be exhibited at the Mall Galleries, London.
17 – 22 September 2019
Mall Galleries
The Mall, London, SW1
Open 10am-5pm daily, free entry
October – November 2019
Town Hall Arts
Trowbridge, BA14 8EQ
November – January 2019
Guildford House Gallery
155 High St
Guildford, GU1 3AJ