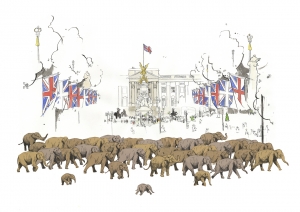 On the 15th June George Butler RI is launching the first exhibition of its kind mapping coexistence between humans and wildlife around the world.  This previously unseen collection of illustrated maps and artists prints will accompany the CoExistence herd of 100, life size, lantana elephants in London's Royal Parks and Berkeley Square this summer.
The herd was first imagined 5 years ago by Ruth Ganesh and bought to life by The Real Elephant Collective in Tamul Nadu, India.
The message they bring is simple – humans need to share space with the other magnificent species or risk losing it all.
A proportion of the funds raised from sale of the artwork at the exhibition will go to the CoExistence campaign and on to the Elephant Family conservation projects.
You are invited to:
CoExistence by George Butler RI
Sladmore Gallery, 32 Bruton Place (off Berkeley Place), London, W1J 6NW
15 June – 23 July 2021
Monday to Friday 10am – 6pm