In this year's RI exhibition Deborah Walker RI RSMA has  painted a collection of contrasting spaces. She writes: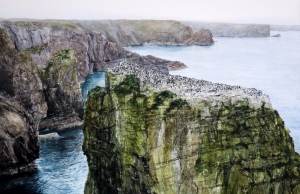 'Guillemots, Sea beet and Tree Mallow'
A huge subject such as this, that incorporates both the far distance and relatively close up detail, often presents itself months or sometimes years before I work out how to paint it. Some subjects just have to be big  and this is one of them. With the need for size come all the specific  technical watercolour  problems of finding and developing my visual language of mark making; handling very large areas of wet paper and wet paint…then handling the drying of both without untoward happenings. Step by step planning gradually starts to take place in my head, planning an order of events that will be essential. In order to avoid 'untoward happenings' , both the subject and the technical process have to be handled confidently and without hesitation.  A tentative approach would be disastrous.

'Wild Swimmers', 'Liquid Gold II' and 'Liquid Gold I'
In contrast, these three small paintings are executed more intuitively and offer an intimate glimpse of a brief moment in time. Unlike the large seascape that invites the viewer to breathe in the whole vista over time, these three are transient flashes of light on water that grab your attention. They stop you in your tracks for just a few seconds before being gone forever.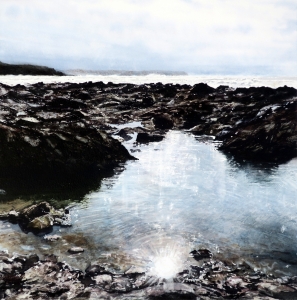 'The sun at my feet'
While relating to the large seascape in its spatial contrast  of far distance and close up detail, the feeling is very different here. Instead of walking on cliffs I am at sea level. Here I'm aware of a deafening silence created by wind and surf all around me. On the perceived horizon, at the seas edge, the waves roar in to claim the rocks once more, but at my feet a rock pool warmed by the sun presents a calm haven or resting place.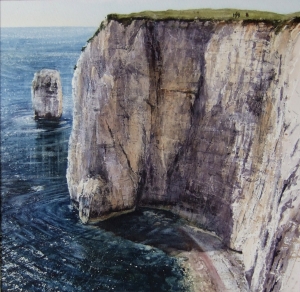 'Sunlight and Shadows'
The third seascape relates to the other two, but again is different in concept. Here I try to represent the sheer scale of the chalk cliffs, with tiny figures that give some indication of size. While the sea stretches far over the horizon, the cliff throws an arm around the water below. It is only the side light casting shadow that defines the structure of the white land mass.
My approach to landscape in watercolour is to find ways to present the widest range of tones possible that are inherent in the subject, the way I see it. Not only am I constantly striving to master the technical demands of the medium,  I'm also drawn like a magpie to contre-jour; painting into the light.
The RI exhibition at the Mall Galleries, London, is open from 3 – 18 April (10am – 5pm). Please follow the link to view all the paintings in the show: https://www.mallgalleries.org.uk/whats-on/exhibitions/royal-institute-painters-water-colours-207th-exhibition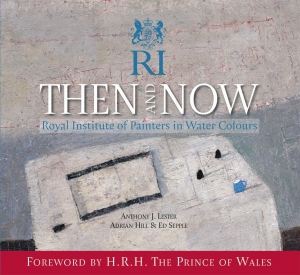 Then and Now is the first long awaited book about the RI is being launched at the show this year. Including a foreword by HRH The Price of Wales and a history of the RI since its inception in 1831, it features all its current members. With 700 beautifully illustrated pages, this hardback book will be available to buy from the Mall Galleries Bookshop, priced at £34.99