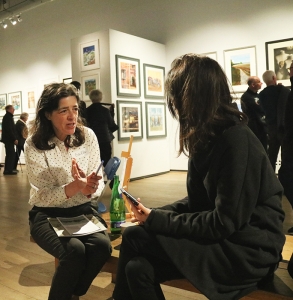 Artist and art critic Estelle Lovatt FRSA shares her thoughts on the instinctive nature of watercolours.
Being 'Art Expert in Residence' at the Royal Institute of Painters in Water Colours (RI) 207th Exhibition was wonderful. I was there to talk about the watercolours, share market insights and answer questions on all things art. I met such interesting people, from gallery visitors to the exhibiting artists, whom I heard gallery-goers praise and describe their skilled artwork "incredible…innovative… haunting…beautiful…stunning…astonishing…expressive…great quality." Many congratulations to the incredible prize winners, and indeed all the magnificent artists.
I enjoy the capriciousness of watercolour.  From how it is shaped as much by the wetness of the medium and the way that weighty, broad washes, relax into the furrows of the paper (often without much control!), to how tiny, subtle, brushstrokes build up layers of transparent effects, adding 3D volume and depth of perspective.
Watercolour has a life of its own, its magical luminosity and instinctive freedom rapidly seizing an impression, reminds me of a quote by Pablo Picasso who said, "There are painters who transform the sun to a yellow spot, but there are others who with the help of their art and their intelligence, transform a yellow spot into sun." And on the cold bleak London day I was there, the jewel-like colours – Prussian blue beside Indian yellow, carmine and burnt sienna by Hooker's green, Payne's grey and emerald – felt especially gorgeous.
The beginnings of the RI dates back to 1807 and it continues to promote watercolour today. His Royal Highness, The Prince of Wales, has written the foreword of RI: Then and Now, a coffee-table book accompanying the exhibition, which traces the history of the institute. Prince Charles himself had two landscapes exhibited; he favours watercolour for painting 'en plein air', outdoor studies, of landscapes and forests of trees, rooted in the scrutiny of nature, since water scenes fit the clear flowing characteristics of the medium.
I was also lucky to eavesdrop on some free events as part of the exhibition including Jean Noble RI SWA hosting portfolio reviews, Robin Hazelwood VPRI giving an exhibition tour and Rosa Sepple PRI talking to visitors.
Elli Koumousi, Head of Education and Cultural Strategy at Mall Galleries said staff thought of me as their "in-house art therapist." Someone I was chatting to called me the "Art Doctor". I won't forget observing pictorial effects with one gallery-goer who looked at me surprised after I explained how I use salt and clingfilm to apply added texture when I paint. Anything goes in the medium loved by some of the greatest British artists from traditional masters including J.M.W Turner and William Blake to contemporary giants Anish Kapoor and Tracey Emin.
Estelle Lovatt FRSA
Image: Estelle Lovatt at the Royal Institute of Painters in Water Colours 207th Exhibition