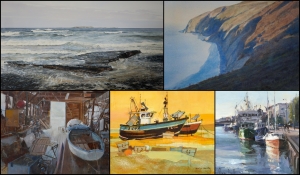 This year's annual exhibition by the Royal Society of Marine Artists features pieces by elected members and non-members, celebrating all aspects of the sea with themed works in a broad range of styles and media. Five members of the RI are exhibiting with the RSMA this year. Colin Allbrook, Paul Banning, Moira Huntley and Deborah Walker are members and Roger Dellar is exhibiting as a non-member.
The common theme is the sea and tidal waters although, within that remit, work is wide and varied. Subjects range from deep water shipping to coastal scenes, competitive sailing to quiet harbours, marine wildlife to still-life.
The Royal Society of Marine Artists (RSMA) is widely recognised as the focal point for much of Britain's finest contemporary marine art and many of the country's leading marine artists are elected members of the Society.
Exhibition: 30 September 2020
to 
10 October 2020 and is showing in all three gallery spaces
Open: 11am to 5pm
Open until 7pm on Thursdays – 1 & 8 October