Harry Price RI, winner of  The Baohong Artists' Watercolour Paper Prize at this years exhibition, has three paintings on show. He writes: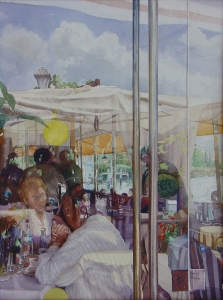 RISTORANTE, LAKE COMO   
The excitement and surprises found in the reflections in the lakeside café brought together by the translucent tones of  the foreground shirt contrasted with the dark silhouettes beyond and the flapping canvas above. Heads vanished in the sparkle of reflections, chinks of light and the views through to Lake Como.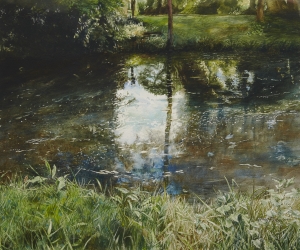 MEDIEVAL FISHPOND, BADDESLEY CLINTON    
An image with contrasting and mysterious changes in darks and lights with differing surfaces of water and vegetation. It was a joy to paint the sparkling detail of the water in the pond which was used as a breeding ground for fresh fish in medieval times, a scene which is redolent with the historical associations of this well known moated manor house.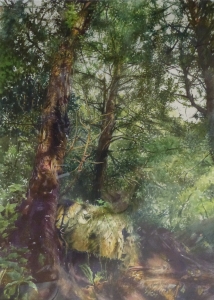 SUNLIGHT IN PUZZLEWOOD      
Puzzlewood is located in the Forest of Dean and reputed to be the inspiration for Tolkein's Middle Earth and for various film sets including Dr Who. This enchanting forest was enlivened by a chance flash of bright sunlight after a long trudge through dark undergrowth.