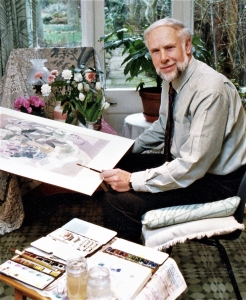 It is with sadness and regret we have to tell you that Honorary Retired Member David Easton has passed away on 17 October 2019.
David Easton studied at Leicester College of Art 1952-56, gaining a NDD in Commercial Design, and after national service in Malaya he returned to the UK and worked as a Graphic Designer. He married the artist Shirley Easton in 1959. He furthered his studies at Scraptoft College of Education from 1973-76. After completing a B.Ed in 1976 he worked as a teacher in schools and colleges.   He was elected a member of the Leicester Society of Artists in 1962 and of the RI in 1985. In 1987 he received the Winsor & Newton/RI Members Award at the Mall Galleries, London for the most outstanding group of works in the RI annual exhibition. Following several decades of painting flowers and still-life in watercolours, gouache and pastel, he returned to landscape painting, working in mixed media, often on a gesso ground, often composed from plein air studies. In 1986 he exhibited in the Royal Academy Summer Exhibition. From 1998 to 2005 he was Secretary of Leicester Society of Artists. He was also an active Member of Leicester Sketch Club, where he gave talks about painting and drawing. He held a solo exhibition of his work at the Bircham Contemporary Arts, Holt, Norfolk in 2002. He authored two books about painting in watercolours: Watercolour Flowers (pub. 1993, Batsford) and Watercolour Inspirations (pub. 1997, Batsford). An enthusiastic user of sketchbooks, David organised and tutored a number of painting trips for small groups of artists to France and Portugal.
David will be missed by many and our condolences go to his wife Shirley and their extended family.