It is with great sadness that we have to inform you that Honorary Retired Member Richard Slater passed away peacefully on Thursday 12th January, at the age of 96 years.
Richard Slater was born in London in 1927. He attended the Hornsey School of Art, which led to a long and distinguished artistic career. He moved to East Cornwall in 1973 and continued to develop and evolve as a painter in his own right.
Richard began exhibiting with the RI and was awarded the RI Medal for 'Most Oustanding painting by a non-member' in 1992. He was elected to membership of the RI in 1999 and he was presented with the Kingsmead/Rowland Hilder Award at our Annual Exhibition in 2003. Richard last exhibited with us in 2019, but was still contributing 6 paintings in 2018 at the age of 91. Richard was also a full member of the St Ives Society of Artists.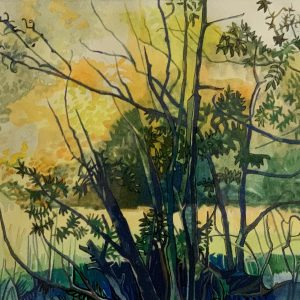 Throughout his career, Richard developed a well crafted, poetic and and often allegorical style which placed him at the centre of the British Neo-romantic movement. He portrayed landscapes as abstracts with a narrative, working with equal dexterity across the mediums of pastel, oil and watercolour. Richard's paintings are in the permanent art collection of the Royal Albert Memorial Museum in Exeter and in the art collection of the BBC.