Ian Sidaway RI has a collection of watercolours of trees, lakes and rivers this year, from the Yoho National Park in the Canadian Rockies. He writes…
Strong composition, design and solid draughtsmanship together with the simple pleasure of exploiting and using the materials are my constant concerns. My intentions are not to create a photographic representation but a synthesis of things seen, something that hints at 'sense of place'.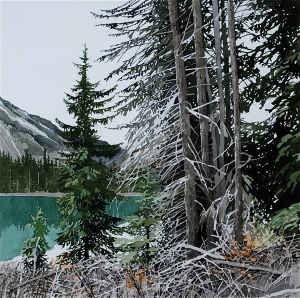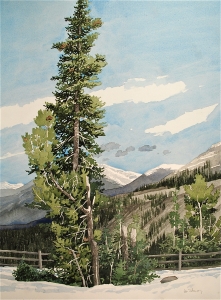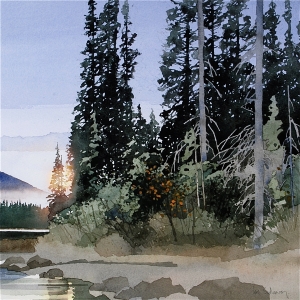 Images: L to R, 'Spruce', 'The Sentinel' and 'Early Emerald Lake'
As part of Geoffrey Wynne RI's collection he include a very large and  powerful watercolour, about which he writes…
My watercolor "Blinded" is the contribution I made to the memory of this terrible scene of human destruction the First World War. Mustard gas was first used during World War 1, causing chemical burns and permanent blindness. The theme of my painting is from a well known photograph of a line of soldiers suffering from a gas attack.