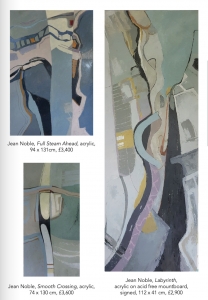 Jean Noble RI SWA will be exhibiting at the British Art Portfolio this week Thursday 9th-Sunday 12th May at Packington Hall, Meriden, Coventry CV7 7HE by kind permission of Lord & Lady Guernsey.
British Art Portfolio was set up by old friends Amanda Lowther and Louise Newton following on from studying for their degrees in History of Art at Leicester University. Amanda and Louise were just 50 years young when they started at Leicester in 2008 as 'mature students'!  They both enjoyed studying 20th & 21stCentury British Art and Sculpture so much that they decided to start a mini pop-up gallery trading only in British Contemporary Art and Modern British Art and sculpture.  Their aim was to inspire their friends and friends of friends by bringing beautiful original art to the countryside.
Now about to embark on their eighth year of trading, British Art Portfolio enjoys a reputation for exciting exhibitions in private homes, historic houses and galleries; private views are fantastic events where the champagne flows and people thoroughly enjoy seeing the British art & sculpture and meeting their friends. Seeing the paintings in a home setting gives people the opportunity to imagine what the works of art might look like in their own homes.
To find out more about the exhibition at Packington Hall, please visit the website for further details: https://www.britishartportfolio.co.uk/may-9-12-2019-packington-hall-warwickshire/
Image: paintings in the exhibition by Jean Noble