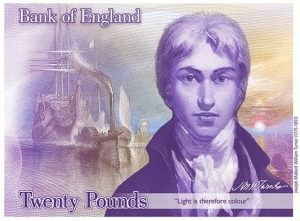 A new £20 banknote featuring artist JMW Turner will start to appear in ATMs and tills from now on as it enters circulation.
The polymer note, which has been released across select locations across the UK on Thursday, celebrates the work of the esteemed Romantic painter, featuring the a self-portrait set against a backdrop of the Margate lighthouse and art gallery, Turner Contemporary, on the left-hand side of the note.
The artist was chosen from thousands of possible figures to become the new face of the hi-tech note, replacing Scottish economist and philosopher Adam Smith, who has featured on the banknote since 2007.
JMW Turner, who lived from 1775 to 1851, was a prolific painter who was seen as a maverick in both his personal and professional life. The artist was born in Covent Garden, London, but spent part of his life in Margate, where he was raised by his uncle after his mother was sent to Bethlem Hospital due to her ailing mental health. Named a child prodigy, the artist began his formal training at the Royal Academy School when he was aged just 14.
Turner's work was said to have elevated landscape painting to the same importance as historic painting. He enjoyed great success as an oil painter, producing 550 oil paintings, as well as 2,000 watercolours and 30,000 paper works during his lifetime. Turner became known as something of an eccentric, often deliberately submitting incomplete works to the Summer Exhibition and rapidly finishing them in the gallery just before the official opening, according to the Royal Academy.
The impact of the artist's work is still felt today, with the Tate creating the prestigious annual Turner Prize art award in 1984 named in the artist's honour. Twenty years later the Royal Institute of Painters in Water Colours founded the Turner Watercolour Award.