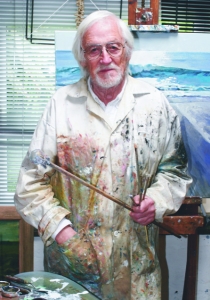 It is with great sadness and regret that we have to tell you that John Raynes, Hon. Retired RI ARCA, sadly passed away on the 11th June 2019.
John Raynes was born in Petersham, New South Wales, Sydney, Australia in 1929. John studied for a National Diploma in Design at St. Albans School of Art from 1949 -52, completing his studies in 1957 as an Associate of the Royal College of Art (ARCA)in London. Over the next 35 years he pursued a successful national and international illustration practice alongside teaching positions at Twickenham School of Art; Somerset College of Art, where he held the post of Senior Lecturer in Illustration; and Redruth School of Art. John returned to painting full time in 1993, exhibiting in London, Brighton, Edinburgh, Portugal, Uzes, Abu Dhabi and Dubai. John was elected to membership of the Royal Institute of Painters in Watercolour in 2003, winning the St. Cuthbert's Paper Mill Prize. John wrote sixteen instructional painting techniques books and was commissioned to work with celebrity participants on "Star Portraits" for BBC1.
John's painting subjects ranged from portraiture and figurative images through to landscape, in his later years the landscape of Cornwall. He was ever drawn to extend his search for abstract shapes in primarily figurative images. John was a greatly admired member  of the RI and while recently he had chosen to become a Honorary Retired Member, he will be sorely missed.