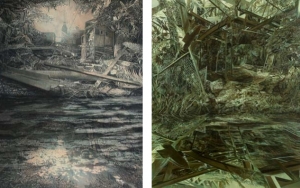 Juliette Losq RI has two pieces shortlisted for the BEEP Painting Prize at the elysium Gallery, 210 & 211 High Street, Swansea from 3 October – 7 November
"Featuring 107 painters from around the globe.
There are 4 prizes for the Painting Prize exhibition including the main prize of £1000 and a solo exhibition with elysium Gallery. The Peoples Prize voted for by the visitors to the exhibition, plus TWO Welsh painters prizes. One £200 prize sponsored by the Friends of the Glynn Vivian and a £1000 prize provided by artist Andre Stitt and Gallery TEN.
Due to COVID-19, a new one-way system has been put in place at elysium, with entrance through the Gallery entrance at 210 High St, through the bar/café area to the gallery for part 1 of the exhibition and then leaving the gallery through the long corridor back onto High Street and next door to 211 High Street for part 2 of the exhibition.
We do recommend booking a time slot to see the exhibition as we cannot guarantee entry if capacity is full, so we do suggest visitors book their FREE tickets in advance for an allocated time slot. No more than six people in one group will be allowed to enter the Gallery and social distancing measures will be in place. Due to COVID-19 government guidelines we are currently only allowed 30 persons in the building at one time".

Book your FREE tickets here:
https://www.eventbrite.co.uk/e/beep-painting-prize-2020-tickets-121832928569