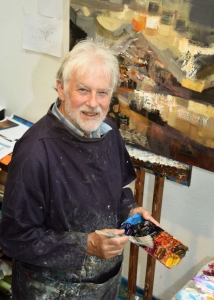 Mike Bernard RI will be showcasing a range of new paintings in an exhibition titled, ESSENTIAL MIKE BERNARD RI – THE ARTIST'S EYE  at the Marine House at Beer gallery from 17th – 30th April 2021.
The gallery says:
Mike's natural gift and skill in capturing the mood of his chosen studies, is why he has won an array of awards over the years and international recognition. His talent can in part be attributed to his artist's eye for composition and perspective, as he always seems to find an intriguing and original setting.
Well known for his virtuoso use of various mediums within his signature collage technique, Mike regularly underpins his compositions with newsprint or tissue, often from the subject location. This is then overlain with bold colourful or sometimes subdued brushwork and completion of fine detailing often using printed card, tickets or other printed matter.
Mike recalls his conversion to his signature style. In the early 90's having graduated from the Royal Academy Schools and starting a career in teaching he says, "I was out in London with students who, when confronted with a blank canvas, seemed to freeze and be unable to start. In exasperation, I thought why not send them round the streets to find discarded tickets, bits of paper and card to stick to the canvas. It clearly broke the mental block." So impressed was he by the dynamic created, that he himself converted from classical oils to the collage style, now the bedrock of his reputation.
For his latest exhibition'Essential Mike Bernard – The Artist's Eye' the latest in our solo shows for Mike dating back 20 years, his new collection of forty new works showcases some of his favourite haunts including the coastal villages of Devon, London and Italy. Though he has painted many of these locations such as Beer, on the Jurassic Coast, many times, they always present a freshness and compelling originality of composition.
VIEWING AND ORDERING
Mike's exhibition is fortuitously timed just as the gallery has been allowed to reopen after four months of being physically closed, and so the solo show will be open daily from 10am – 5.30pm, and everyone is welcome to attend the launch day on Saturday 17th April, when Mike will be present. Simply contact the gallery on 01297 625257 for an invite. Most pieces will be available to view online and via our catalogue from early April, however nothing can surpass the impact and sheer joy of viewing Mike's work for real.