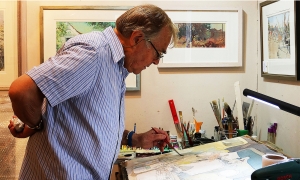 Paul Banning  RI  RSMA  WGA
It is with great sadness that we announce the passing of a much loved member of the RI, Paul Banning.
Paul was born in 1934 in Trinidad and after moving to the UK attended the West of England College of Art in Bristol. After a successful career in fine furniture design he became a full-time painter in 1986, and was elected a Member of the RI in 2005. He served on the Council from 2008 until 2014 and in March 2011 was awarded the coveted Turner Medal Watercolour Award . Paul was also a member of the Wapping Group of Artists (WGA) and the Royal Society of Marine Artists (RSMA).
Despite the complexities associated with working directly from the subject, Paul was mainly a plein air painter. He found a particular fascination for painting in tropical climates where he said he found, " the strength of light at midday is incredibly strong and the shadows are so intensely deep that it makes for an exceptional contrast …especially where the primary colours split and separate." 
We will all miss him.