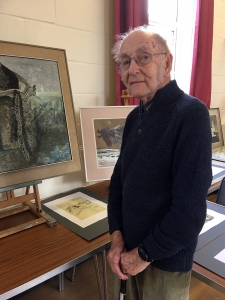 At the beginning of November an illustrated talk and review was held of
Peter Folkes RI
's work at Timsbury, Romsey, near Southampton. The Illustrated talk was given by Rod Rumble, and  a large selection of Peter's paintings were displayed for the audience to view and admire. Some of the paintings dated back to the 1950's. The audience was honoured that Peter was able to join them on the night, as he was able to answer questions and contribute.
Mr Rumble is planning to curate an exhibition of Peter's work next year, and is also preparing a
book for publication.
In 2017 Southampton City Art Gallery purchased one of Peter's oil paintings for their collection.
paintings.