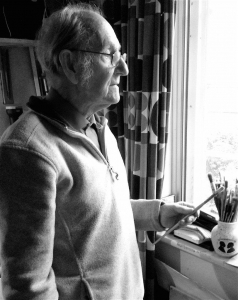 It is with much sadness and deep regret that we have to tell you that Peter Folkes RI passed away on the 7 January 2019.
Peter Folkes was elected a member of the Royal Institute of Painters in Water Colours (RI) in 1969 and served as Vice President from 1989 until 2009. He was born in Beaminster, Dorset, on 3rd November 1923 and trained at the West of England College of Art, Bristol, between 1941 and 1950. His studies were interrupted by military service between 1942 and 1947 in which he served as a draughtsman in the Royal Corps of Signals in North Africa, Sicily and Italy and through which he was awarded a Mention in Dispatches in 1944.
Peter was Head of Art at King Edward VI School, Southampton, from 1950 until 1965. In 1952 he became an Associate of the Royal West of England Academy (RWA), seven years later becoming an Academician. Between 1964 and 1978 he was a lecturer at Southampton College of Art.
In 1990 Peter was elected an Honorary Member of the Federation of Canadian Artists (FCA). In 1992 he was appointed a consultant for Winsor & Newton and later became an External Examiner for the Certificate of H.E. Humanities at the University of Southampton.
Peter has had many solo shows and shared shows, exhibiting in New York, London, Gainsborough House in Sudbury, the University of Southampton and at the Royal West of England Academy. As well as private collections, his work has been in the public collections of the UK Government Art Collection, Arts Council of Great Britain, Southampton City Art Gallery, The Royal West of England Academy, the Universities of Hull, Keele, Portsmouth, Southampton (both Southampton and Solent) and King Edward VI School, Southampton.
Peter was married and had two sons, six grandchildren and nine great grandchildren. Our condolences go to Peter's extended family.