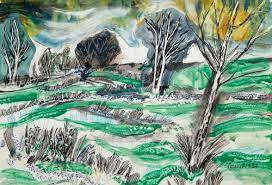 It is with sadness and regret we have to tell you that Honourary Retired Member of the RI Peter Weaver has died. Peter became a member of the RI in 1999 and had only very recently become an Honorary Retired Member. He and his wonderful imaginative work will be sorely missed.
Born in London, Peter studied at St.Martin̛̛s School of Art & Crafts, Camberwell School of Art & Crafts and The Slade School of Fine Art UCL. He worked for many years in both sculpture and painting as he found that they complemented each other.
Peter was a member of  both the Royal Institute of Painters in Watercolours, the Royal Society of British Artists and the Royal Society of Sculptors and is Hon.member of Chelsea Arts Club. He was a founder member of the Printmakers̛̛ Council and teacher at Camberwell School of Arts & Crafts for many years. He has work in the collections of the Victoria and Albert Museum, Birmingham Museums & Art Gallery and also private collections in the UK and Sweden.