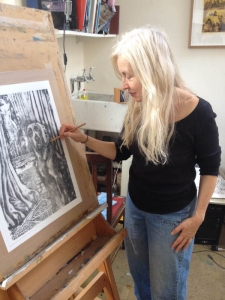 Ever since childhood , Aimee was drawn to making images and to dancing. She takes interest in the strange, the uncanny the magical and the mysterious. The alchemy of painting and etching fascinates her. She feels there is an unseen force which breathes life into the image.
Currently she is working in watercolour and acrylic. Her recent exhibitions include Shenzhen International Expo, "Dazzle" at the National Theatre, London, solo exhibition at the Brunel Museum, London, Royal Academy of Art Summer Exhibition, Royal Institute of Painters in Watercolours annual exhibition, Bilbao , Spain 70th Anniversary Basque watercolour Expo, Invited International artist .
Prizes and Awards include The Worshipful Company of Painter Stainers award, The June Stokes-Roberts Bursary for Painting in Water Colours.