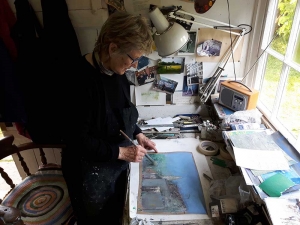 Artist Statement
My work is mainly concerned with the exploration of the landscape, particularly of estuaries and industrial sites, and more recently of the Burgundian landscape.
I am interested in the layering of experiences seen and felt.
Mood, atmosphere, weather and a sense of place all affect the way in which I approach a painting.
Methods
I have a different sketchbook for different subject matters. Mostly I create washes over the paper so that I am not faced with a white sheet and it gives me something to work against.
Drawing is done to note the weather, texture and mood and I take photographs as an aid to construction. Back in the studio, I like to create a surface of washes, marks and textures before I begin to construct a painting using hog hair brushes, palette knives and sandpaper.
Biography
Born Sunderland, Co. Durham

Lives in Yorkshire and London

1960 – 1964 York School of Art

1964 – 1967 Royal Academy Schools
Awards
David Murray Landscape Scholarship

Landseer Scholarship

Royal Academy Silver Medal for Drawing

Royal Academy Silver Medal for Painting

2016: The Escoda Barcelona Award for an outstanding landscape
Exhibitions
1967 – 1979 Regularly shown work in Royal Academy Summer Exhibitions

1979 Elected member of Royal Society of British Artists

1981 Bath Festival of Contemporary Art

1982 – 1999 Appointed Lecturer in Printmaking, Putney School of Art

2002 Northumbria University Gallery, small picture show

2003 Solo show Zillah Bell Gallery, Thirsk, North Yorkshire

2005 RASA group show, York University

2008 RAC Club watercolour show, London

2009 North and South Light group show, Zillah Bell Gallery, Thirsk, North Yorkshire

2011 Artist in Residence, Ritz Cinema Thirsk

2011 Solo show, Putting on the Ritz

2016 Eton College exhibition

2016 Royal Institute of Watercolour Painters Annual Exhibition