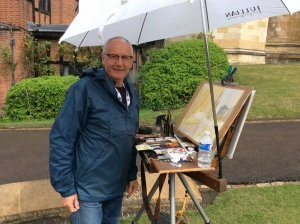 In 1978 I went freelance after 8 years under the wing of experienced artists. I shared a room with 4 other artists and first encountered the wonderful work of John Blockley who left an indelible mark on me. Watercolour enthralled me and he showed the scope that set me on my path. Soho was my base for 20 years before moving to the Eastbourne on the South Coast with my wife Chris and 3 children to run a residential painting school from our home for the next 14 years. In 1995 when the nest was empty we continued our adventure on Menorca in the Balearic Islands until returning to the UK in 2010.
I am based in Malmesbury, Wiltshire and have a studio near my home besides running workshops and demonstrations around the UK as well as tutoring at West Dean College, West Sussex and Higham Hall in the Lakes.
I am inspired by people going about their daily lives usually within an architectural setting.
Submissions for Major Exhibitions in UK, Europe & USA 
Finalist in Artbox Project Exhibition 2020, Barcelona, Spain
RI Open 2020 (4 paintings accepted)
RI Open 2019 (2 paintings accepted)
RWA 2019 (2 paintings accepted)
San Diego, USA Open 2018
RI Open 2018
RI Open 2017
Windsor Castle Plein Air 2017 (Gained People's Choice Award)
Lakeland Artists Exhibition 2017
Finalist in Artbox Project Exhibition 2017, Basel, Switzerland
Art Gemini 2016 Exhibition, Asia House, London
RI Open London 2016, painting sold at exhibition
RSMA Open London 2016 (Gained Sea Pictures Award) Painting sold at exhibition
RI Open London 2015, painting sold at exhibition
RBA Open London 2014
RI Open London 2014, both paintings sold on Preview Day
RWA Bristol (Gained Best Watercolour Award)
RWS Open London 2011 (Gained Artist Award)
RI Open London 2011 (Gained Matt Bruce Award)
Sunday Times Watercolour Exhibition 2011 London.
Cork Street Open London 2011
RWS Open London 2010
Publications
I have written articles for a number of the Instructional Art magazines as listed below:
The Artist 2020 – three 4 page articles My Working Methods
The Art of Watercolour 2017 – 6 page article My Working Methods
New Artist 2017 – 4 page article Step by Step Guide
New Artist 2016 – 4 page article on method of work
International Artist Finalist in Favourite Subjects 2013
International Artist 2011 – 6 page feature article My Working Methods
The Artist 2011 – 4 page feature article My Working Methods
Leisure Painter 2008-2010 – Instructional Articles in Various Editions
Website: www.briansmithartist.com
Instagram: @briansmithartist