In his early years Colin Kent studied and worked as an architect. He was elected a member of the Royal Institute of Painters in Watercolours in 1971 and then became a full time painter.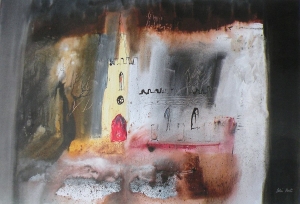 His landscapes and interiors are painted from his memories, feelings, and impressions, displaying the romantic elements and the spirit of places filtered through his own vision and artistic sensibilities. He transforms the ordinary view into an extraordinary vision through his use of tonal contrasts, texture, and light and shade, creating works which have vitality, spontaneity and a sense of timelessness.
Colin experiments continuously using a variety of water based media and collage. This mixture of media often takes over during the painting process dictating the shape and flow of the work.
He has exhibited at the Mall Galleries London, receiving the Linda Blackstone Award at the RI exhibition, and also the Buzzacott Award amongst others. Colin has also exhibited at the Royal Academy London, The Royal West of England Academy, the Guildhall and many of the best fine art galleries. His works are in collections in the UK, U.S.A, France, Germany, Finland, and Japan.