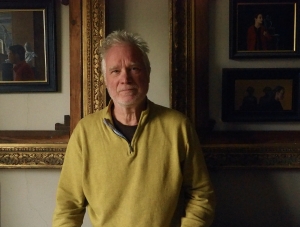 David Gleeson was born in Manchester and studied Fine Art at Aberystwyth University and Wolverhampton University. He was elected a member of the Royal Institute of Painters in Watercolours in 2022 and is also an associate member of the Society of Graphic Fine Art.
"I paint stories. Many of my paintings need time. Still moments wonderfully quiet. In my work I try to look again at the everyday. There is a bit of mystery, alchemy even, in the craft of painting. My work conjures up a world that is barely glimpsed and often overlooked. All that I do is grounded in observation."
Exhibitions include solo and group shows in London, elsewhere in the UK, the USA and Johannesburg. I have shown at The Royal Academy, The National Portrait Gallery and the Mall Galleries.
My work is in Chester City Collection, Staffordshire County Council Collection, Keele University Collection and Aberystwyth University Collection.
Awards and Prizes 
'The Anthony J Lester Art Critic Award' at the R.I. Open, Mall Galleries, London 2019
SGFA Open Drawing 16, Menier Gallery, London, 'Best Drawing' 2016
'The Discerning Eye', Mall Galleries, London, Prizewinner 1997 / 2001 / 2002 / 2006
NEAC Annual, Mall Galleries, London, Prizewinner 2002
RWS/Sunday Times Watercolour Competition, London, Shortlisted Artist, Highly
Commended 2011
R.B.S.A. Open All Media, Prizewinner 2006/2007/2008
Alumni Exhibition, Aberystwyth University, Prizewinner 2007
Grosvenor Museum Open Art Competition, Chester, Prizewinner 1999 / 2001
'Hunting Art Prizes', Royal College of Art, London, Prizewinner 2000
Stoke Open, Prizewinner 2000 / 2008
Three Counties Open, Keele University Gallery, Prizewinner 1999 / 2011
Staffordshire Open , Prizewinner, 1993 / 1994 / 1995 / 1996 / 1999 / 2000 / 2009 / 2012
MidArt Annual Open, Dudley Art Gallery, Prizewinner 1998
'Regeneration', Walker Art Gallery, Liverpool, Prizewinner 1984