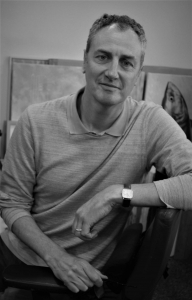 I am a Dorset-based environmental painter creating watercolour and ink montages: a fusion of naturalistic painting and narrative script with subtle messages about sustainability hidden within the works. My style is directly influenced by my background in the newspaper industry where I was an associate editor and the senior artist for The Sunday Times for 26 years.
Working for a newspaper, I often produced diagrams highlighting environmental problems. In the last decade as a painter, including an environmental message in each piece has been very important to me. For example, oak trees, which are under threat, provide the habitat for around 2,300 different species from bats to beetles and lichens to mammals. The names of some of these species are discreetly included in my paintings. I always feel a deep connection and a sense of wellbeing when under the tree canopy. Being able to combine this joy with painting is such a privilege.
I am also a member of the Society of Graphic Fine Art where I was awarded 'Best in Show' at their annual exhibition. I have shown with the RBA, The Arborealists and the RWA. I am also The Ecologist magazine's Arts Editor and write for Resurgence magazine.
Website: cookthepainter.com
Twitter: @cookthepainter
Instagram: cookthepainter