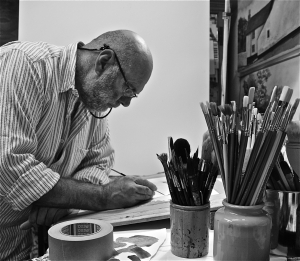 BIOGRAPHY
Born in Tamworth Staffordshire. Ian trained as a designer and worked for a short period in advertising then as a freelance designer before beginning to paint in the early 1970s. There followed a period during which he illustrated books on a wide variety of subjects together with countless contributions to practical art publications and consultancy work on art partworks. For several years he taught at summer painting workshops near Arezzo in Italy. He has also written and produced over 30 of his own titles dealing with various practical aspects of drawing and painting in all mediums. Whilst no longer doing publishing work he is a regular contributor to The Artist Magazine.
Elected a member of the Royal Institute of Painters in Water Colours in 2010.
PROCESS
My work currently deals predominantly with the landscape it is the place where I was raised and most like to be and it is the place that stirs my creative impulses strongest. I feel an affinity with the landscape painting tradition in this country and the work of artist the like of Nash, Ravilious, Mackintosh and Cotman to name but four on a very long list of those in who's shadows I respectfully like to think I might be bold enough to follow.
I simply record what I see, not in a photographic way but in a way that describes my own sense of place. The process is simple, direct observation, photographic and sketchbook work, followed by time in the studio where hopefully it all comes together. I love the process and the stuff of paint, inevitably given my training the style is crisp and graphic, with a strong underlying sense of design, something that for many years I railed against but now enthusiastically embrace and accept.
EXHIBITIONS
The Royal Academy Summer Exhibition
The Royal Institute of Painters in Watercolour
The Royal Watercolour Society
The Royal Society of British Artists
The Sunday Times Watercolour Competition
The Pastel Society
Chelsea Arts Society
Discerning Eye
Bouchard Self Portrait Exhibition
Paintings in Private collections in Britain, France, Holland, Australia, Italy, Canada and the USA.