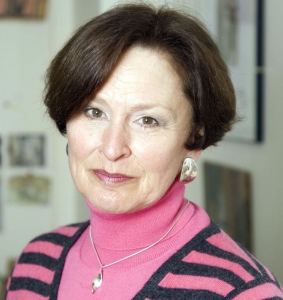 Jean Noble is an abstract artist who likes to work in water-based media. She studied at Loughborough College of Art, Kingston University (design degree) Central St Martins (short courses) and The Slade Summer Schools.  She is a member of the Royal Institute of Painters in Watercolours, the Society of Women's Artists and the Chelsea Art Society.
She exhibits regularly at the Royal Academy of Arts Summer Exhibition, The Mall Galleries members' shows, The Discerning Eye, The Affordable Art Fairs and many well-recognised galleries throughout the UK.
She has won many awards for her work including the Royal Society of Arts Design Award, the Abstract/Surreal Painting Award Hertford Art Society, the Lady Laming Award for an Abstract painting and the John Goss Prize. Jean was presented with The Barbara Tate Award at the Society of Women Artists Exhibition 2017.
Jean believes art is an extraordinary glance at the ordinary. Her work begins with something seen, in the urban landscape or countryside, maybe a particular light and her finished painting evolves out of a process of continuous change and innate knowledge of colour and composition. She is particularly interested in the boundary between representation and abstraction but as she says, all her paintings "…begin in front of the subject and are the result of personal experience and whatever reorganisation of the subject has undergone in the process of painting, something of the colours and shapes I originally saw always remain."