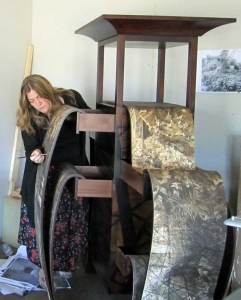 Juliette Losq (b. 1978 London, UK) studied Fine Art at Wimbledon College of Art (2004- 2007) and the Royal Academy Schools (2007-2010), as well as studying English and History of Art at Newnham College, Cambridge (1997-2000) and History of Art at the Courtauld Institute, London (2000-2001). Losq won the Jerwood Drawing Prize in 2005, was one of five shortlisted artists for the John Moores Prize in 2014, receiving the Visitor's Choice Award, and received the John Ruskin Prize in 2019 for a large-scale, immersive watercolour installation. Losq's work is exhibited and held in collections in the UK and internationally, including the Saatchi Collection, Newhall Women's Art Collection, All Visual Arts and the Newnham College Collection. She works on Eel Pie Island, London.
Juliette Losq's paintings seek to describe the borderlands on the fringes of urban developments, and capture the benign battles waged between man and nature. As flora reclaims the spaces with fresh growth concealing man-made structures, so graffiti artists tag the structures in an effort to stake their own territorial claim. Losq's renditions of the (sub)urban landscape are interrupted by the threat of an unknown presence. The dark recesses allow the imagination of the viewer to place where that threat might be lurking. This creates both an uneasy feeling and a visceral thrill.
Losq works over the surface of her watercolours repetitively, with successive layers both concealing and revealing imagery from those beneath. Through their size and complexity her paintings challenge the notion of watercolour as a medium that has historically been used on a domestic scale, and for preparatory sketches in the field.