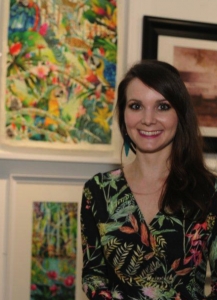 Kate's work celebrates nature, fusing colour and imagination to bring to life the lushness and beauty of the natural world. Her complex compositions portray the plants, animals and insects found in a variety of global habitats with increasing reference to indigenous and endangered species. Whilst extensive research informs every painting, Kate imagines habitats and plant life from a new perspective, blending the real with the unreal.
''The experience I want to give anyone who looks at my work is to continually see something new. I like hiding small details or creatures in dense foliage to be discovered. I want my work not only to have an immediate visual impact but also to reward closer investigation into the complex, vibrant and overgrown worlds I create"
Kate's work forms part of many international private collections.
List of awards
2017 – Leathersellers Prize, RI
2015 – Solo Show, Threadneedle Space, and Royal visit, Mall Galleries, London
2014 – Diana Brooks Award, Royal College of Art, London
2014 – Premium Art Brand prize, Society of Women Artists